Hey, what's up?
I'm Eden James, and I'm the founder of The Late Starter, and my mission is to help you live a life you're proud of.
If this is your first time here then I welcome you.
The Late Starter is for those people whose talents or capabilities are not visible to themselves or others until later than usual.
*GOOD NEWS* – you don't have to necessarily know what that is right now – Just be content to follow your curiosity in life – follow the breadcrumbs and spend time looking closely at your interests.
Clear the clutter so you can focus on what's important, create something amazing, and live a happy and content life.
As a busy working family man I found myself putting things off for way too long and continually coming up with a multitude of excuses such as…
• I have a family to support!
• I don't know what my passion is!
• I don't have any good ideas!
• I don't see a way forward
Recently I asked myself a couple of questions – 'where am I?', and; 'what do I really want?'
When I first began this site I wrote posts for the purposes of helping me get through my discomfort. I had the knowledge, and as we know – knowledge is only power if we implement it– and clearly I wasn't.
Welcome to the "man cage".
If you want to speak about anything at all, just get in touch. Every great journey begins with an email. In the meantime, read on why I created The Late Starter.
I want to share with 'my people' that it's never too late to start fresh or start over – especially when it comes to your dreams.
I know that many people are feeling lost, stuck and lifeless.
Conformity is a word that springs to mind.
That is what The Late Starter is about – to help people realize that 'it's NEVER too late' to transform your life.
I will share the perspectives gained by the lessons learned on my entrepreneurial  journey, and what I continue to discover along the way.
…Say goodbye to conforming…
I help people who don't need convincing they're stuck in a rut (they know it) get out of it; and folks who have just woken up and realized they have conformed for much of their life and want to start working towards that business idea…
I decided to actually use the knowledge I have to make changes in my own life and transform myself.
It worked, it took time and dedication but I got there in the end. These are some of the changes I made in my own life
I was overweight and I lost 15kg of pure unadulterated fat by running 2kms daily without fail.
I started winning and attracting positive things into my life (I won lifetime Jetts gym membership)
I stopped drinking and haven't touched alcohol since mid 2014.
I moved to another country with my family
I have recently become a University student at the age of 41 (BA Psychology/Philosophy)
I decided to read one book per week and have been doing so for 4 years
I started a meditation practice and have been doing so daily for 2 years now
So for all you nice peeps out there down in the dumps, know that you haven't missed the boat, you just haven't ventured down to the harbor.
All we need is already within us, we all have unlimited inner resources – it's just a matter of digging them out.
If you aren't satisfied with where you are in life right now, you'll need better habits, better beliefs, and better thinking patterns; as well as new tools to unearth your natural talents and gifts.
We need to uncover the things that are common sense to you, and come naturally; and which other people seek you out for.
You are the Golden Oracle in something and we'll find it together.
You have to take a break from the endless treadmill of life to find your true self.
I've learned the long and slow way that it's NEVER too late to transform your life and carve out your right path.
That was my old story. I decided to create a new one, you can too.
Here are 7 random facts about me:
If they gave out degrees in metaphysics I'd have a master's degree, I love it. Thomas Troward is one of my heroes. Just sayin..
I spent most of my working life in the tourism industry. I started off as a guide in a NZ nature sanctuary and ended my tourism career as operations manager of a Maori cultural tourism attraction in the geothermal wonderland known as Rotorua, in New Zealand.
I win prizes a lot. I have won the lottery numerous times – still working on the first division prize – I currently enjoy lifetime free membership at one of the most popular 24/7 gyms spread throughout New Zealand and Australia (which I won in 2013). My wife calls me a manifesting maestro!
My heroes as a teenager were Arnold Schwarzenegger and Jean Claude Van Damme. In 1995, I secured work on 3 episodes of 'Hercules, The Legendary Journeys' starring Kevin Sorbo (here is Cory Everson Miss Olympia and me on set). Looking back I was able to connect the dots, the movie posters of my heroes on my bedroom wall were constant reminders of what I wanted to achieve and I had unconsciously taken inspired action to reach it. This is when I first became interested in the manifestation process.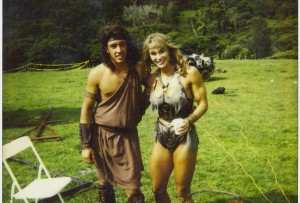 I've always been a bit of a seeker. I studied Maori spiritual healing early in my teens and I have always felt deeply connected to nature, which has been my greatest teacher with regards to spiritual learning. I am Reiki level II trained as well as being a qualified trainer assessor. I have always been very intuitive and this is only strengthening. It will for you too! Once you start taking heed to it.
During my 'lost years' and when I had gotten stuck in the 'man cage' for close to 20 years, my coping mechanism was binge drinking. I stopped drinking altogether in 2014. I was also struggling with my weight, which I have since shed. I'm now a healthy 95 kgs, down from 110kgs – sometimes getting lost will help you find yourself.
I live in Queensland, Australia – but I was born in Rotorua, I'm a Kiwi through and through. I'm proud of my country and my culture but I love Australia and the opportunities it has provided myself and my family. I have travelled to New Caledonia, Vanuatu, Lifou, Argentina, and Uruguay so far…
Here's my third person bio:
Eden James is the 'transform from the inside out' mentor for the men of the world who feel lost, stuck and lifeless in the 21st century; he's a metaphysical maestro and a mojo-musketeer.
Eden helps men find meaning in life, teaches spiritual practices in partnership with nature, meditation, and visualizing; and helps men get back on the path to happiness and purpose.
Find him at TheLateStarter.com