Roger in the old unhappy state.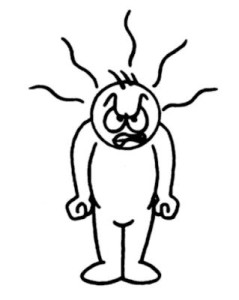 Roger in the new happy state.

To go from unhappy to happy requires Roger to undergo a psychological change.
The fastest way to accomplish this is for Roger to simply imagine how a happy person would feel, this is enough to create a positive change in Rogers's psychological state.
Eventually Roger would start to speak, think and act like a happy person.
The fastest way to accomplish a thing is to first become the person who has already accomplished a thing – psychologically.
If Roger wants to accomplish a thing, he'll first have to become THAT person – inside.
If Roger had already accomplished that thing, and it was now his reality – he'd be content. He'd finally be happy. He'd be more mindful and probably a bit more attentive to what he's doing right now in the moment. He wouldn't rush. He wouldn't stress as much. He may even be a little more spontaneous in life. He'd take action, yes – but it'd be obvious action AND inspired action.
Roger would be thinking as a happy person – and reality would conform according to Rogers new outlook.
Roger can then connect the dots looking back, and so will we.
My point?
That the shortest way to happiness is to be happy now.
Think and act cheerfully; and you will be cheerful